"

Sea Species was my take on where evolution is going from here. The reality of using genetics to design life was catching up to my story too fast." - R.L. Clayton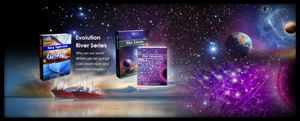 History of Sea Species
My story ideas come from the world around us and from dreams. I was somewhat familiar with the Biosphere II project. There was magic in their mission of creating a space colony on Earth to learn how to create habitats in space and on other planets. It was fertilizer for the imagination. I built on that and their idea of living with very small footprints. The site for their underground settlement was at the foot of Baboquivari Peak, an enchanting place I'd visited years. Tohono O'Odham legend has it as the birthplace of the people on earth. Thus the name became Kihhim meaning village in the native language. What a great place for a new species to be born! 
Sea Species was my first book, and I was amazed how the ideas evolved as I wrote. My first draft was horrible, with poor plot and poor character development. I rewrote. And rewrote and rewrote. I still did not seek a professional editor and had to publish a 2nd edition with much of the errors removed. I later published a 3rd edition because I wanted to tie my Dead Series into the Evolution River Series. 
The characters in the story took over, telling me the plot had to go. I pictured Leticia looking like Halle Berry, while Katharine looked like Rene Russo. Ron Carson was a younger version of Harrison Ford. I slashed more than half of that first draft. I was learning to write better. What started out as an angry anti-societal rant became a story of two species struggling to trust each other and get along. 
Sea Species was my take on where evolution is going from here. The reality of using genetics to design life was catching up to my story too fast. When I started writing, it was 80% fiction. By the time I finished it was less than 50%. To me, the genetic engineers designing life became a new species, and the logical next step in human evolution. They were able to design themselves to accommodate the environment rather than change the environment to accommodate them. 
I was determined this story would not degenerate into a trite series of battles between humans and genetic monsters. The GEs became the protagonists trying to convince humans they could be compatible, not the danger imagined. For acceptance, the human race had to mature. In the mid-twentieth century, the idea of aliens from other worlds was solely the fodder of science fiction writers. Far too many times they were villains trying to conquer Earth. The true existence of extraterrestrials was not accepted. Today only a few do not entertain the possibility. But could humans accept another native intelligent species on Earth? That is the story of Sea Species.